Indepen-Dance have three performance groups:
Indepen-Dance 4
Young 1'z
Adult Performance Company
To Discover More informaton on each of our perfomance groups, please click on the relevant category below.
Professional Touring Company
Indepen-dance 4 is our flagship inclusive dance ensemble, with a fast-growing reputation for innovative and high quality touring productions.
Adult Performance Company
Our Performance Company consists of members who have been invited to participate based on their talent. The company have weekly sessions focusing on technique and movement.
Young 1'z Youth Company
This weekly creative session adopts a person-centred approach to dance, using music and props to assist. Working individually, in small groups or as a whole class, participants have the opportunity to explore dance in a safe and friendly environment. The emphasis is on sharing and having fun!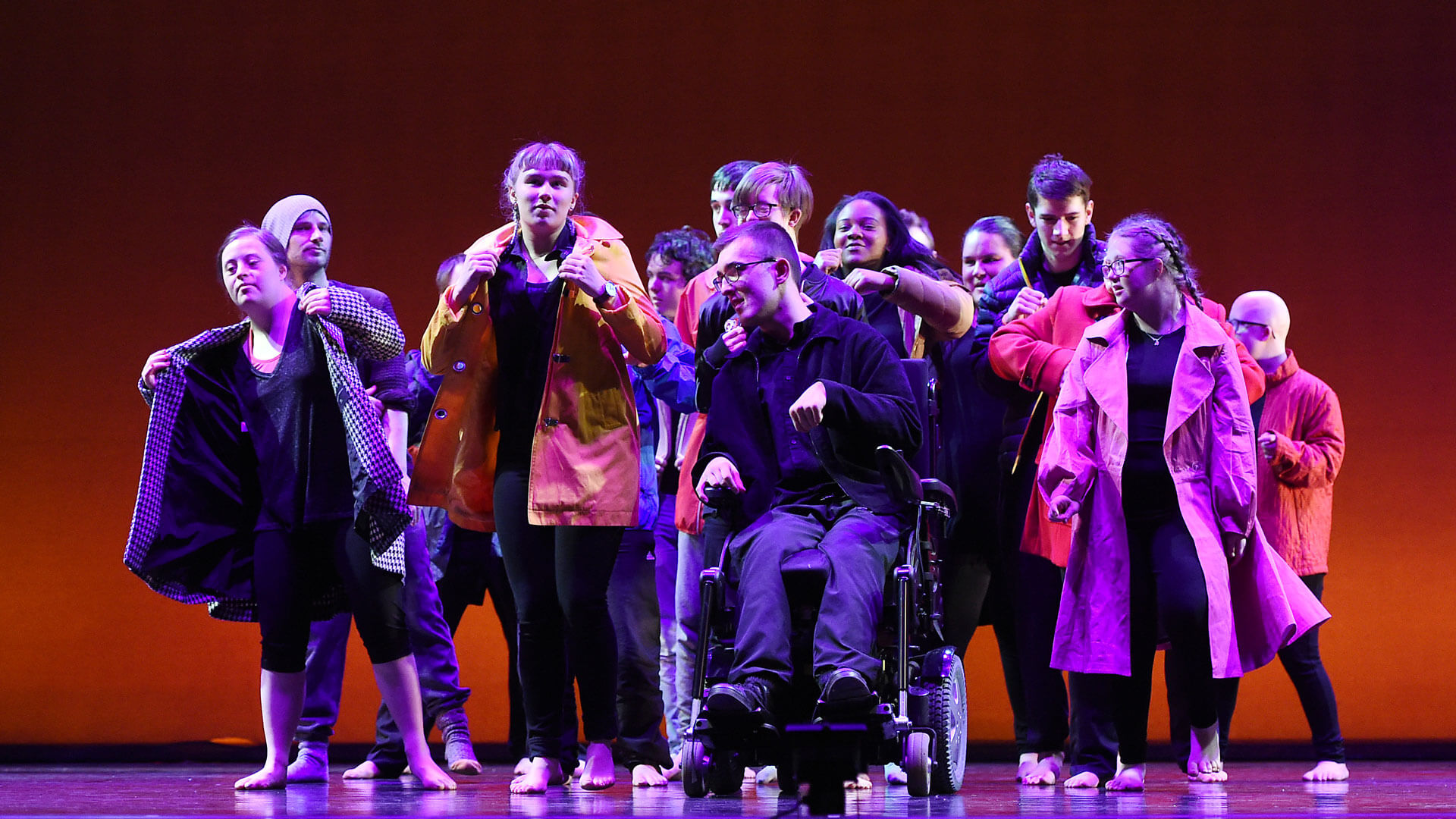 Professional Touring Company.
Indepen-dance professional touring ensemble is our flagship inclusive dance ensemble. Created in 2013 with an original cast of 4 dancers has had a fast-growing reputation for innovative and high quality dance performances. 
Our dancers have in their short career worked with an amazing range of choreographers and musicians, touring shows in the UK, Europe and the wider world. 
Research and development for our brand new dance production will involve a new cast, this new production will be premiered at our 3rd International Inclusive Dance Festival , Gathered Together 2020 on the 8th July.
Adult Performance Company
The Adult Performance Company (APC) is Indepen-dance's longest running community company including members who have danced with the organisation since its creation in 1996. The group meets weekly at the Scottish Ballet Engagement Studio for their regular classes.
The APC alternates biannually between residency, travelling to places such as Belfast and Essex, and creation of a large scale company piece; Previous pieces have included Tightrope, Forecast and Hoppin in Harlem.
Young 1'z Youth Company.
Established in 2008 Indepen-dance's Young 1'z company is comprised of dancers aged 16–24. The Young 1'z attend a weekly class as well as performing regularly and travelling on residencies.
Each year the Young 1'z create a new piece of choreography with a guest tutor, they perform in Glasgow and around Scotland at youth platforms. The Young 1'z are an integrated group of disabled and non-disabled dancers who work in a mature and professional manner, many of them want to pursue dance as a career. They enjoy every opportunity to perform and serve as role models for others.
Past performances include: HUM, Impulse Relay and TRANSIT.